Our Mission & Vision
Cambria Baptist Church exists to provide instruction, worship, ministry, and fellowship, for the purpose of making disciples of Jesus Christ and declaring His glory to all people, beginning with individuals in Hillsdale County, Michigan, the United States, and around the world.
Leadership Team:
Our leadership team recognizes the authority of God, and realizes that we are shepherds who serve under the Chief Shepherd, Jesus Christ. We desire to devote ourselves to prayer and to the ministry of the Word. Our passion and goal is to equip the believers for the work of the ministry until we all attain maturity in the fullness of Christ.

Pastor Dave Locke, Senior Pastor
Pastor Dave desires to see all come to recognize the supremacy and glory of God. He holds both a Bachelor's Degree in Bible (Northland International University), a Master's Degree in Theological Studies (Faith Baptist Theological Seminary), and a Doctor of Ministry Degree (Liberty University). He and his wife Heather have two boys.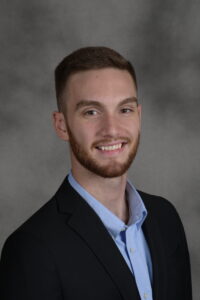 Pastor Christian Brown, Associate Pastor
Pastor Christian was called to be the associate at Cambria in the Spring of 2022. His passion is to glorify God in making disciples of Jesus Christ by preaching the Gospel, pursuing God's holiness, and persevering in faith. Pastor Christian graduated from Faith Baptist Bible College with a Bachelor's Degree in Pastoral Studies. He and his wife, Chelsea, were married in June of 2020 and enjoy serving Christ's church together.